Subscribing to the TSA Rotary Club Calendar on your iPhone is easy!
Step 1:  click on this webcal link and wait a few seconds for your phone to respond
Step 2: in a few seconds a window will pop-up asking to confirm you want to subscribe to the calendar.  Click "subscribe"
Step 3: in few seconds another window will pop up, click done.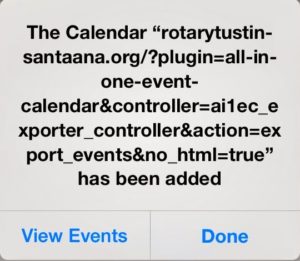 All Done – TSA Rotary Events will now appear in your Calendar!
---
On Android Phones: 
You can add a calendar using its address follow these steps:
Step 1:  in the Calendar application, Click the down-arrow next to Other calendars.
Step 2: Select Add by URL from the menu.
Step 3: Copy this address into the field provided:
webcal://rotarytustin-santaana.org/?plugin=all-in-one-event-calendar&controller=ai1ec_exporter_controller&action=export_events&no_html=true   
Step 4:  Click Add calendar.
---
in your GooglePlus Calendar (web Calendar):
Step 1: Make sure you are logged into Google Calendar or Gmail.
Step 2: Click on This Link
Google Calendar will confirm you want to subscribe to this calendar.
Step 3: Click on "Yes, add this calendar"