First row:  Guin Foss teacher Jennifer Titterud, Beckman library media technician Brendy Eley, Heideman teacher Catherine Lien, Arroyo teacher Janis Leach and Tustin High teacher Maggie Bingham
Second row:  TUSD Superintendent Dr. Gregory Franklin, Guin Foss Principal Kelly Fresch, Heideman Principal Eric Kilian, TUSD Director of Communications and New Generations Director, Mark Eliot Beckman High Principal Adele Heuer, Tustin High Assistant Principal Troy Fresch
The purpose of the program is to encourage classroom teachers' ideas and methodology, to enhance the instructional program offered to students in the District, and to recognize the more exemplary efforts of the "eager beavers" in the Tustin Unified School District school system.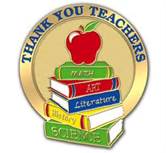 The Tustin-Santa Ana Rotary Club awards grants to individuals for the development of quality educational programs in the classroom or school.  Either a new concept or a supplement to an ongoing project is eligible for consideration.  The winners will use the money to purchase materials, supplies or equipment.
A committee composed of representatives of the school district and members of the Rotary Club review all proposals and select the winners.  Individual awards vary in amount according to requirements of the proposed projects.
New Generations Director is Mark Eliot.